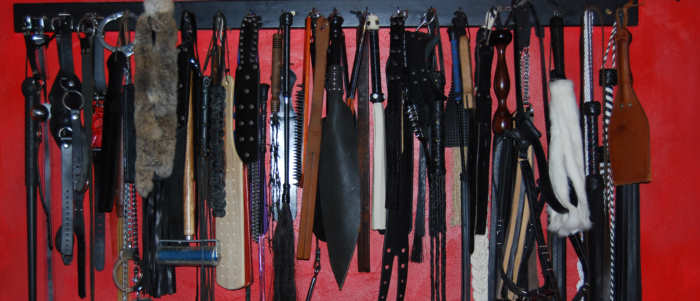 Amazonian 6ft 2 Mistress Lucinda (6ft 11 in heels) and possibly UK's tallest Dominatrix has now relocated to the Haute-Vienne département of France. She is now the Dominatrice Maîtresse Lucinda, and is offering sessions in Her new Donjon in a discreet setting to the south of Limoges, 45 minutes by car.
A graduate from Cambridge University and former teacher, Maîtresse is cultured, articulate, intelligent and authoritative. Be warned, Her sharp wit will tie you up in knots. Maîtresse has had extensive experience of BDSM over the years as both a Lifestyle and Professional Domme and is able to offer many BDSM activities.
She also has a nursery for Adult babies and diaper lovers (ABDL). Nanny Lucinda can be tender and caring or very firm and quick to punish..
Maîtresse particularly relishes newcomers to the scene so that She can help them develop over time into the best submissive, baby or slave, they can be. Over the years Maîtresse has helped many reach their potential as they become happier and more fulfilled in their roles.
Whilst Maîtresse can show Her tender side at times, She also has a very definite sadisitic side to Her nature and loves giving out severe and challenging punishments when required.
She is very bisexual and therefore welcomes females and male/trans submissives alike. Inexperienced Domme/sub couples and AB couples who wish to further their experience are also welcome.
All limits are respected and all activities are safe, sane and consensual. All dealings with Maîtresse are to be respectful and no time wasters will be tolerated, She will NOT be topped from the bottom but She WILL listen..
Maître/Maîtresse sessions are also available with Maître Kush. A unique opportunity to serve two dominants at once! Enter the dungeon and kneel at Our feet and experience the full force of Our dominance. Two pairs of feet to worship or be trampled by. Two pairs of strong hands seeking new ways to torment you. Be restrained to the gynaecological chair, attended by both a doctor and a nurse and be subjected to medical treatments and scenarios with Maître and Maîtresse together!! Have you the courage to put yourself before Us both..?? Perhaps you would prefer a session with Nanny Lucinda and Daddy Kush as they tend to the little you..let Us make your fantasies become a reality!!
Outcall sessions are possible in and around Europe. Note that for all outcall appointments Maître Kush will always accompany Maîtresse.
Maîtresse Lucinda's Statistics:
Height: 6ft 2 (1m 88)

Weight: 14 stone (90kg)

Chest: 44" (112cm)

Waist: 35.5" (90.5cm)

Hips: 39" (99cm)

Bicep: 15" (38cm)

Thigh: 24" (61cm)

Hand Length: 8" (20cm)

Foot size: 9 (EU 43)


She is truly an Amazon worthy of worship. Come and kneel at Her feet, look up at Her towering over you - over 7ft tall (2.1m) in Her highest heels!! Her beautifully manicured hands and pedicured feet are long but perfectly in proportion with the rest of Her body. Admire Her, worship Her, compare your pathetic body to Hers. Sit in Her lap and be made to feel the small man you are, or be trampled beneath Her feet. For those who wish to experience Her powerful strength, She offers arm wrestling, non competitive wrestling and lift and carry sessions. You can experience front lifts, back lifts, be cradle lifted like a baby or be bear hugged until the breath is squeezed from your lungs. She will pin you to the floor, choke you and twist your body every which way!!!